Custom Designed Pumping Equipment
D.L. Thurrott, Inc. represents industry's leading pump manufacturers. We ensure that our customers receive the optimal pumping solution each and every time. Our design, engineering, application, and expertise allow us to provide you with a custom, innovative system. Work with us to provide equipment as simple as a pump mounted on a portable cart, or as advanced as one with multiple pumps, motors, variable speed drives, sensors and safeties. These systems are assembled and tested in our facility and then shipped to you. 
Custom Designed Air Product Systems
D.L. Thurrott Air Products has complete systems design and fabrication capabilities. We can design and fabricate complete compressed air skid packages which include air compressors, receivers and air dryers assembled on a common steel frame. All of the components are pre-piped with single point termination connections. These packages have resulted in significant savings to our customers in terms of reduced installation costs.
Boiler Feed & Condensate Return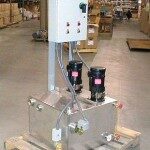 Advantage Series Boiler Feed
Supplied in 25, 50 and 100 gallon as a standard design.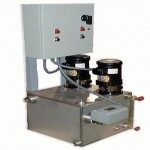 Advantage Series Condensate Return
Supplied in 25, 50 and 100 gallon as a standard design.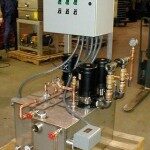 Vacuum Condensate Return
Custom designed and replaces the obsolete systems of the past.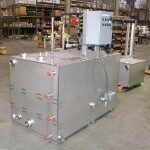 100 Gallon Condensate Return
Customized to fit into an existing foot print.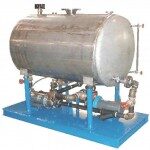 High Pressure Duplex
Custom system. High volume and high temperature.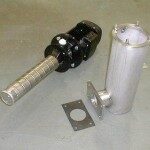 Custom Designs
Converts the square flange side mounted condensate pumps to an immersion type pump.
Miscellaneous Custom Systems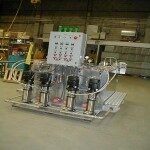 Process Filtering System
System to clean solvent returned from scrubber.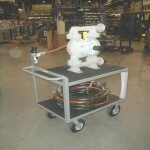 Wilden AOD On Cart
1 ½" Wilden pump on plastic cart.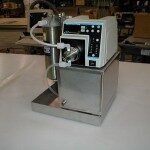 Hose Pump with Filter
Barnant variable speed hose pump with filter.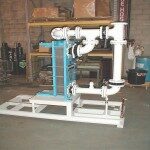 Heat Exchanger
Plate and frame heat exchanger package.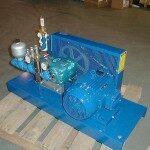 CAT High Pressure Pump
CAT pump with motor and belt drive.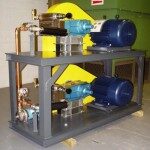 Cat Duplex High Pressure Package
2500 psi duplex package for lab testing.
24VDC Color Adding System
Vector hose pump with 24V DC motor for outdoor operation.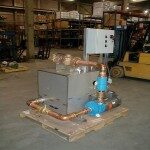 Metered Water Supply
Goulds pump with tank and water meter to report water usage.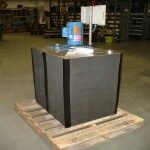 Chill Water Transfer
Insulated storage tank for chill water return.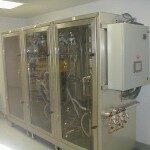 Culture Growth Package
Aquaculture system for growing algae and metering food supply.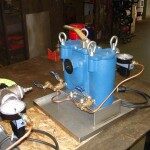 Basket Filter with Alarm
Duplex basket filter set with alarm and remote notification.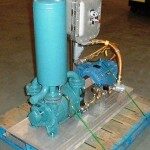 Liquid Ring Ex-Proof Vacuum System
Vacuum system pulling explosive gases from process. Ex-proof electrical components.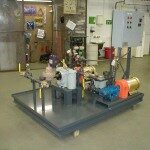 Oil Pump Skid
Roper large oil pump skid to feed high pressure process boiler at manufacturing facility.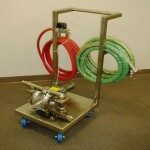 Wilden AOD on Cart
1″ Wilden pump on stainless cart with hose.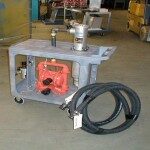 Wilden Cart with Filter
1″ Wilden pump on cart with bag filter.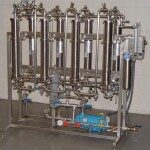 Oxygen Removal System
System removes oxygen from water used in beer brewing process.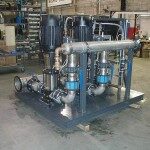 Golf Course Irrigation
600 gallon system for automatic golf course irrigation.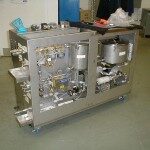 Medical Lubrication Feed
System monitors the viscosity of the media and automatically adjusts the mix to maintain consistent fluid properties for even coverage.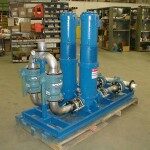 Canned Turbine Skid
Goulds vertical turbine pumps in can for plant process water distribution.